In My Area
Planned improvements
Twigworth, Gloucester - Tewkesbury Road
06 Sep 2019
Estimated completion date
Tewkesbury Road
Work is progressing with in Tewkesbury Road.
24 Jun 2019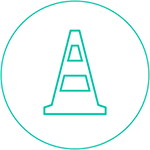 Lane closure
Single traffic lane closure is planned to commence on 29th July 2019. The lane closure will be in place for approximately 10 days and we expect the works as a whole to last for up to 11 weeks.
Roads effected:
Tewkesbury Road
There are currently no disruptions
There are currently no disruptions
Preventing sewer flooding
We will be laying 90m of new sewer from Twigworth Court Business Centre, crossing Tewkesbury Road (A38) into the adjacent open field and connecting to the existing Twigworth Court sewage pumping station. This work will help reduce the risk of flooding from the sewers.
  We plan to start our sewer improvement work starts on 24 June 2019 in Tewkesbury Road (A38) for a duration of 11 weeks.
Protecting the environment
We'll take away our customers waste and treat it responsibly, which will protect the environment and ensure our customers no longer have to manage their own waste.
Meet the team
Stephan Read
NMCN - Site Manager
How do I like my coffee?
How are we doing?
If you have any feedback about our works, please click the button below.