In My Area
Planned improvements
Stoke Golding, Hinckley - Main Street
12 Jul 2019
Estimated completion date
Main Street
This phase of our work will begin around 12 August for three weeks.
09 Jun 2019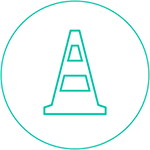 Road closure
During the work we'll need to close the roads to through traffic. We're really sorry about this, but it will mean we keep everyone safe and get the work done as quickly as possible. A diversion will be in place and pedestrian access will be maintained at all times.
Roads effected:
Hinckley Road, Main Street, Station Road and Upton Lane
There are currently no disruptions
There are currently no disruptions
New pipes for old
We're replacing the water pipes in the Stoke Golding area of Hinckley to help prevent the risk of bursts and flooding.
  24 weeks in the works
Our work will start week commencing 13 May on Hinckley Road. We will then work our way down Main Street and Station Road before completing the work on Upton Lane in October 2019.
Securing your supply
We're committed to ensuring your water supply is always there when you need it.
Meet the team
Roisin McBain
Community Communications Officer - Severn Trent
How do I like my coffee?
How are we doing?
If you have any feedback about our works, please click the button below.