In My Area
Planned improvements
Stenson Road - Stenson
:: UPDATE - 14 Nov 3pm Due to flooding on the alternative routes Stenson Road is being reopened with traffic lights in place. We'll review the situation again after the weekend.
20 Dec 2019
Estimated completion date
11 Nov 2019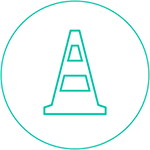 Stenson Road - road closure
Stenson Road will be closed between 9am and 3pm each day Monday to Friday. We're sorry about this but it's needed for the safety of our workforce and the public.
There are currently no disruptions
There are currently no disruptions
We're replacing the ageing water pipes with new ones in the area
We're committed to ensuring your water supply is always there when you need it
Please be assured that we, and our contract partner Amey, will do everything we can to minimise any disruption and get your new water pipes installed as quickly as possible
Meet the team
Helen Purdy
Community Communications Officer
How do I like my coffee?
Early!
How are we doing?
If you have any feedback about our works please click the button below. (Please contact us direct rather than using this link if you have an urgent query about the work)