In My Area
Planned improvements
Plox Green Road, Shrewsbury - Station Road/Callow Lane
31 May 2019
Estimated completion date
Water pipe replacement work
Work is proceeding as planned along Plox Green Road, whilst we are at the junction with Callow Crescent three way traffic lights will be used to ensure safety. We would like to thank the residents and businesses for their support and understanding during this essential works.
15 Apr 2019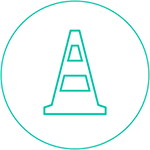 Junction closure
The junction will be closed during our works.
Roads effected:
Station Road/Callow Lane
There are currently no disruptions
There are currently no disruptions
New pipes for old
We're replacing the old water pipes with new ones, starting on Station Road at the junction of Callow Lane.
13 weeks in the works
We'll be working for about 13 weeks to complete the pipe replacement work.
We keep it running
We're commintted to ensuring your water supply is always there when you need it.
Meet the team
Samantha Pedley
Amey Customer Liaison Officer
How do I like my coffee?
How are we doing?
If you have any feedback about our works, please click the button below.