In My Area
Planned improvements
Old Lode Lane, Solihull - Mayswood Road
11 Oct 2018
Estimated completion date
Mayswood Road
This final stage of our project will begin working in July until August 2018.
16 Sep 2018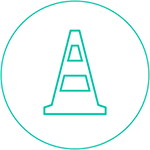 Multi-way traffic lights
We'll be using multi-way traffic light during our works, so that we can work safely and quickly.
Roads effected:
Mayswood Road
There are currently no disruptions
There are currently no disruptions
Eight months in the works
Due to unforeseen circumstances, we have had to stop all work in Tanhouse Farm Road until further notice.
The water pipes in your area have served your community well for many years, but have recently been showing their age, resulting in a number of bursts locally. Therefore we're replacing the old pipe with new bigger ones to help prevent burst and leaks.
We're committed to ensuring your water supply is always there when you need it.
How are we doing?
If you have any feedback about our works, please click the button below.