In My Area
Planned improvements
Oakham - Manton to Ridlington
10 Mar 2019
Estimated completion date
Work was originally scheduled in Manton to Ridlington on 14 January 19. Due to the ground conditions where the team are currently working they've been delayed on their current job. This has had a knock on effect with the scheduled work for Manton to Ridlington and has been rescheduled to start week commencing 18 February 19
15 Feb 2019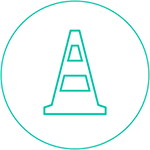 Road closure and traffic lights
Due to the location of the pipe in Ridlington, and to keep you and our workforce safe, we have agreed to close Hannah's Field Lane to through traffic and use 2 way lights on Brooke Road whilst this work is taking place. Please note the road closure and traffic lights will not be at the same time. Once this is complete we'll move into Manton village where we will be working under 2 and 4 way lights on St Marys Road, Lyndon Road and Lodge Lane.
Roads effected:
Hannah's Field Lane, Ridlington
Brooke Road, Ridlington
St Mary's Road, Manton
Lyndon Road, Manton
Lodge Lane, Manton
There are currently no disruptions
There are currently no disruptions
We're replacing the old pipes in your area  
We're commintted to ensuring your water supply is always there when you need it.
We're working with communities around Rutland to improve the water supply and reduce the risk of bursts in your area.
Meet the team
Lisa Orme
Community Communications Officer - Severn Trent
How do I like my coffee?
How are we doing?
If you have any feedback about our works, please click the button below.