In My Area
Planned improvements
Oakham - Main Street Thistleton
03 Mar 2019
Estimated completion date
We will be coming back in March to grass seed verges where we've been working.
We have completed our work in Thistleton and we will be sending in a Road cleaner week commencing 11 February.
We've completed our way along Main Street, Thistleton under traffic lights
02 Jan 2019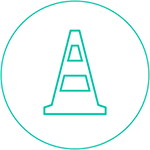 Traffic lights
To allow us to carry out work safely we'll need to slow down the flow of traffic using traffic lights and some priority signage and barriers
There are currently no disruptions
There are currently no disruptions
We're replacing the old pipes in your area  
We're commintted to ensuring your water supply is always there when you need it.
We're working with communities around Rutland to improve the water supply and reduce the risk of bursts in your area.
Meet the team
Lisa Orme
Community Communications Officer - Severn Trent
How do I like my coffee?
How are we doing?
If you have any feedback about our works, please click the button below.