In My Area
Planned improvements
Nottingham Road, Tansley, Matlock - Nottingham Road
28 Jun 2019
Estimated completion date
Nottingham Road
Work will start week commencing 15 April to replace the water pipes in your area.
29 Apr 2019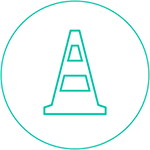 Two-way traffic lights
In order to carry out the work quickly and safely, we'll need to control the flow of traffic by using two-way traffic lights for the duration of the work as well as signs and barriers around the holes.
Roads effected:
Nottingham Road
There are currently no disruptions
There are currently no disruptions
The water pipes in your area have served your community well for many years, but have recently been showing their age, resulting in a number of bursts.
We're investingin your area by replacing the old water pipes with new ones.
Work will start week commencing15 April 2019 at the junction of Thatcher's Lane/Nottingham Road. The team will work their way along Nottingham Road until they reach the Red Hill junction, they'll continue along Red Hill and will finish just past Urban Planters by June 2019.
Meet the team
Rachel Lowe
Community Communications Officer - Severn Trent
How do I like my coffee?
How are we doing?
If you have any feedback about our works, please click the button below.