In My Area
Planned improvements
North Newark - North Newark - Waste Improvements
We are constructing new shafts and tunnels to convey sewage to our treatment works at Crankley Point, where we will be undertaking improvements. We are also installing new sewers in North Newark, all of this work is to help protect homes and businesses in Newark from sewer flooding.
02 Apr 2019
Estimated completion date
Quibells Lane
Piling works and excavation to full depth for our main shaft were completed in spring 2017. The shaft was used to launch the 'Wiggle Blaster' and manage the tunnel drive towards Crankley Point in July 2017. Our largest tunnelling machine, 'Siege Breaker' was launched into the shaft towards Newark in September 2017 and all 200m worth of gantries were installed by December allowing the tunnel boring machine (TBM) to reach its optimum speed. It successfully passed underneath the East Coast Mainline in February and worked its way by Bar Gate and Castle Gate during March and April. Siege Breaker then worked its way along Millgate and finally broke through at Shaft 6 adjacent to the Spring House Pub on Tuesday 8th May 2018, meaning all 3kms of tunnelling are now complete. All finishing works within the tunnel have been completed.
Crankley Point
We constructed a new shaft, which is the end point for our newly built 2.1m diameter tunnel. The shaft forms a new pumping station, from which flows are pumped up to our treatment works. The shaft was given a concrete spray lining and structural lining. A concrete plug was poured and the concrete rings were installed to make up the shell of the pumping station. Steel sections have been constructed, over which a metal mesh floor has been installed to allow for worker access. The new screening chamber is now complete and the bridge channel adjoining the pumping station to the screening chamber was installed in early April. Meanwhile the Storm Pipes and the Motor Control Centre (MCC) have also been installed. The storm pumps and mechanical screens were received in May and have now been installed. The dry weather flow pumps have been fitted. All pumps were tested and started to receive flows on 29 November 2018, making it one of our largest and deepest pumping stations.
Stephen Road
We have now completed the works to replace the existing sewers in Stephen Road with new, larger pipes to reduce the risk of flooding from the sewers in the North of Newark.
Stephen Road, Wolsey Road and part of Fleming Drive
We have completed works on Fleming Drive and Wolsey to replace the existing sewers with new, larger pipes to reduce the risk of flooding from the sewers in the North of Newark.
11 Nov 2016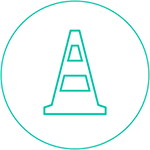 Road closure and traffic management
During our work we will be using road closures and traffic management to allow us to work safely.
Roads effected:
Stephen Road, Wolsey Road, Fleming Drive, Quilbells Lane, Crankley Point
There are currently no disruptions
There are currently no disruptions
We'll be working in Newark over the next four years- watch our video for more information
We're investing £60 million in Newark's waste and water systems
Preventing sewer flooding
There are currently around 400 properties at risk of sewer flooding in Newark
We'll be working over the next four years to upgrade water and sewer pipes in Newark
We'll be installing 10km of new water mains, replacing 2.6km of exisiting mains and installing new water valves
We'll be constructing 4km of new tunnelled sewers and upgrading over 7km of the existing sewer system
Our team working in Newark