In My Area
Planned improvements
New Ashby Road, Loughborough - New Ashby Road
11 Oct 2019
Estimated completion date
New Ashby Road
This phase of our works should be completed by the end of October.
15 Dec 2019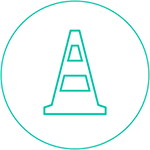 Road closure
We'll be closing the road during this phase of our works to keep everyone safe.
Roads effected:
New Ashby Road
There are currently no disruptions
There are currently no disruptions
We're replacing some of the exisiting water pipes with new ones to help protect you from the risk of bursts and flooding.
The first phase of work will start week commencing 17 June 2019 on Blackbrook Road, we'll then move onto Ashby Road, Gracedieu Road, Garendon Green, and Ashby Crescent before finishing on New Ashby Road by October.There will be another team starting work week commencing 15 July 2019 on Schofield Road followed by Old Ashby Road, Hermitage Road and New Ashby Road before finishing at Sharpley Road by February 2020.
We're committed to ensuring your water supply is always there when you need it.  
How are we doing?
If you have any feedback about our works, please click the button below.