In My Area
Planned improvements
Market Harborough - Phase Two
31 Aug 2019
Estimated completion date
The pipe has been laid and we're doing our final tests on the pipe
We will be laying the final stretch of pipe on Kettering Road from Jordan Close to Bellfields Lane. To keep you and our team safe we will need to close this section of road from 2 July 2019 for three weeks
As we get to the end of laying the pipe on Kettering road, we will move onto the public footpath inbetween Kettering Road and Rockingham Road from 28 June 2019. You will see the council along the footpath at the start of the week trimming back trees before our work starts
Kettering road will be closed from the junction of Jordan Close to Gorse Lane from 28 June 2019 until 4 July 2019
Work has started on Kettering Road and we'll be working to the junction of Ashley Way until the Middle of May. So we can keep you and our team safe, we will need to carry out this section of work using a one way road closure, traffic lights, Barriers and Signs
Our work is progressing along Kettering Road quickly you will see the one way road closure move with us. From the middle of May you will see us moving past the junction of Ashley Way and working towards Gores Lane
29 Apr 2019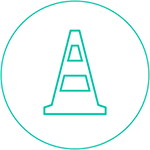 To allow us to carry out this work safely we've agreed with the local authority to slow down the flow of traffic using road closures, traffic lights and some priority signage and barriers. Access to properties, and pedestrians will be maintained and a diversion route will be in place.
Roads effected:
Kettering Road
There are currently no disruptions
There are currently no disruptions
Latest photos of our work
We're working with community in Market Harborough to improve the water supply and reduce the risk of bursts in your area.
Every so often, we need to replace old water pipes. That's because the risk of bursts increases as the years pass so we're replacing some of the old pipes in your area with new ones
We're committed to ensuring your water supply is always there when you need it
How are we doing?
If you have any feedback about our works, please click the button below.