In My Area
Planned improvements
Market Harborough - Phase One
30 Sep 2019
Estimated completion date
Once we have completed work on the busy junction for Great Bowden Road we will carry on working up Great Bowden Road using traffic lights to keep you and the team safe
Works on hold
Due to unforseen circumstances the work has been put on hold renewing the smaller water pipe. We will write to you with more details as soon as possible
We will be laying the new water pipe from the junction of Rockingham Road and Great Bowden Road from the 10 of June. To keep you and our team safe we have agreed with the local authority to close a section of Great Bowden Road, a diversion will be in place.
You will see us working laying the brand new water pipe along Rockingham Road
We are currently taking deliveries for all our health and safety equipment and you will see us setting up on site.
08 Apr 2019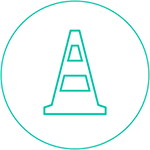 Road Closures and traffic lights
Due to the location of the pipe, and to keep you and our workforce safe, we have agreed with the local authority to complete a section of our work on Great Bowden Road to Fernie Road under traffic lights and a road closure for 6 weeks from 10 June 19. We'll then be doing the remainder of the work along Great Bowden Road under 2 and 3 way traffic lights. Please be aware a diversion will be in place and access will be maintained at all times to the train station and pedestrians.
Roads effected:
Great Bowden Road
There are currently no disruptions
There are currently no disruptions
Latest photos of our work
We're working with community in Market Harborough to improve the water supply and reduce the risk of bursts in your area.
Every so often, we need to replace old water pipes. That's because the risk of bursts increases as the years pass so we're replacing some of the old pipes in your area with new ones
We're committed to ensuring your water supply is always there when you need it
How are we doing?
If you have any feedback about our works, please click the button below.