In My Area
Planned improvements
Market Harborough - Investigation
21 Feb 2019
Estimated completion date
Firstly we'll need to check the ground conditions, locations of existing pipework and also cables. We do this by digging down next to the existing pipe to take a sample. We will do this work across multiple locations on Rockingham Road.
18 Feb 2019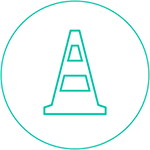 Road Closure
Due to the location of the pipe, and to keep you and our workforce safe, we have agreed with the local authority to close a section of Rockingham Road to through traffic whilst this work is taking place. We're really sorry about this but it means we'll get the work completed as quickly and safely as possible. A diversion will be in place and access to your home, business and pedestrians will be maintained at all times.
Roads effected:
Rockingham Road
There are currently no disruptions
There are currently no disruptions
Latest photos of our work
We're working with community in Market Harborough to improve the water supply and reduce the risk of bursts in your area.
Every so often, we need to replace old water pipes. That's because the risk of bursts increases as the years pass so we're replacing some of the old pipes in your area with new ones
We're committed to ensuring your water supply is always there when you need it
How are we doing?
If you have any feedback about our works, please click the button below.