In My Area
Planned improvements
Maisemore and Tibberton, Newent - Tibberton Sewage Treatment Works
03 Jan 2020
Estimated completion date
Sewage Treatment Works
Tibberton Sewage Treatment Works has been serving the local community well for many years but is now showing signs of wear and tear. We plan on building a new Sewage Pumping Station within the existing Tibberton site and laying 4.5km of new sewer to transfer the flows to our larger Newent works for treatment. This work will involve the a phased closure of Kent's Green Road as well as temporary traffic lights along Gloucester Road, Newent with the remaining sections being installed in private land.
16 Sep 2019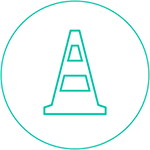 Temporary traffic lights
We will need to use temporary traffic lights where we cross the road and where open land is unavailable. We also have a small section of work to carry out on the A40.
There are currently no disruptions
There are currently no disruptions
We're replacing the water pipes in the Maisemore and Tibbeton area of Newent to help prevent the risk of bursts and flooding.
We're planning the work with local highway teams
We would like to start the work during the summer holidays when we know the roads are a little quieter.
We're committed to ensuring your water supply is always there when you need it.  
How are we doing?
If you have any feedback about our works, please click the button below.