In My Area
Planned improvements
Hipton Hill, Lenchwick, Evesham - Water pipe replacement work
15 Mar 2019
Estimated completion date
Water pipe replacement work
We'll be starting work on 7 January 2018 to upgrade the water pipes in your area.
07 Jan 2019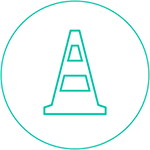 Road closure
So that we can work quickly and safely we'll be closing the road during our works.
Roads effected:
Hiptop Hill
There are currently no disruptions
There are currently no disruptions
New pipes for old
We're replacing the old pipes with new ones in the Hipton Hill of Evesham to help reduce the risk of burst and flooding.
Nine weeks in the works
Work will start week commencing 7 January 2018 and it will take us around five weeks to complete.
We keep it running
We're commintted to ensuring your water supply is always there when you need it.
Meet the team
Samantha Pedley
Amey Customer Liaison Officer
How do I like my coffee?
How are we doing?
If you have any feedback about our works, please click the button below.