In My Area
Planned improvements
Havelock Road Derby - Upperdale Road
31 Jan 2020
Estimated completion date
06 Jan 2020
There are currently no disruptions
There are currently no disruptions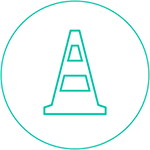 Car parking
We know finding a parking space can be a nuisance but in order to get this work completed and quickly we need to be able to access the work area. We'd be very grateful if it can be kept clear of parked cars.
New pipes for old
We're replacing the ageing water pipes with new ones in the area
Keep it running
We're committed to ensuring your water supply is always there when you need it
Eight months in the works
Please be assured that we, and our contract partner Amey, will do everything we can to minimise any disruption and get your new water pipes installed as quickly as possible
Meet the team
Helen Purdy
Severn Trent Community Officer
How do I like my coffee?
How are we doing?
If you have any feedback about our works please click the button below