In My Area
Planned improvements
Great Longstone - Great Longstone
This work is now complete.
02 Nov 2018
Estimated completion date
Mires Lane
Work is now complete on Mires Lane.
15 Oct 2018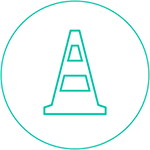 Road closure
This road will be closed for the duration of the work due to the location of the pipe and for the safety of the team. Access will be granted to residents only.
Roads effected:
Mires Lane
There are currently no disruptions
There are currently no disruptions
New Pipes for old
  We're replacing some of the existing water pipes with new ones to help protect you from the risk of bursts and flooding.
How many weeks in the work
Work will start week commencing 15 October and will be completed by the beginning of November 2018. 
Keep it running
We're committed to ensuring your water supply is always there when you need it.
Meet the team
Rachel Lowe
Community Communications Officer - Severn Trent Water
How do I like my tea?
How are we doing?
If you have any feedback about our works, please click the button below.