In My Area
Planned improvements
Grange Road, Solihull - Water pipe replacement work
09 Nov 2019
Estimated completion date
We are making steady progress along Grange Road. Three- way traffic lights are still in place. We respectfully request motorist be considerate of residents trying to get on and off their driveways. We thank you for your patience and understanding during these works.
30 Sep 2019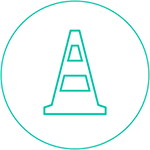 Temporary traffic lights
We'll be using temporary traffic lights during our works, so that our team can work quickly and safely.
Roads effected:
Grange Road
There are currently no disruptions
There are currently no disruptions
We're replacing the water pipes in the Grange Road area of Solihull to help prevent the risk of bursts and flooding.
We'll be working for around six weeks to complete our work. We're plan to star on 30 September 2019 until 9 November 2019.
We're committed to ensuring your water supply is always there when you need it.
How are we doing?
If you have any feedback about our works, please click the button below.