In My Area
Planned improvements
Gopshill Lane, Gloucester - Gotherington Road
11 Nov 2019
Estimated completion date
Gotherington Road
Work has almost completed on Church Row and Gotherington Road. The final reinstatement is being done. Once this is finished, the road closure will be removed. This is expected to be Monday 4 or Tuesday 5 November 2019. We will then be moving onto Gopshill Lane from 25 November 2019. We thank you for your patience and understanding during these works.
30 Sep 2019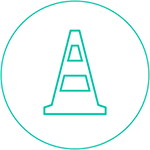 Road closure
The road will be closed during our works, so that we can work quickly and safely.
Roads effected:
Gotherington Road
There are currently no disruptions
There are currently no disruptions
We'll begin working on 7 January 2019 to replace the water pipes in Gopshill Lane and some of the surrounding roads.
It will take about 14  weeks for us to carry out this work. Due to unforeseen circumstances this scheme has been postponed for the time being.  Once we have a revised date our work will begin to upgrade the water pipes in the area.
We're committed to ensuring your water supply is always there when you need it.
How are we doing?
If you have any feedback about our works, please click the button below.