In My Area
Planned improvements
Dunton Bassett to Broughton Astley - Station Road (Phase One)
20 Dec 2019
Estimated completion date
Station Road
We're replacing the existing water pipes in your area for new ones
28 Oct 2019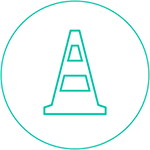 Traffic Lights
We may have to use multi-way traffic lights at any junctions. Otherwise our team will complete the work using signage and barriers around the working areas.
There are currently no disruptions
There are currently no disruptions
New pipes for old
We're replacing the ageing water pipes with new ones
Keep it running
We're committed to ensuring your water supply is always there when you need it
Five months in the works
Please be assured that we, along with our contract partner Amey,  will do everything we can to minimise any disruption and get your brand new water pipes installed as quickly as possible
How are we doing?
If you have any feedback about our works, please click the button below