In My Area
Planned improvements
Crispin Rd, Cheltenham - Crispin Rd, Gervase Road, Kenelm Road and Godwin Road
08 Nov 2019
Estimated completion date
Crispin Rd, Gervase Road, Kenelm Road and Godwin Road
Work is almost complete. Our team are finishing the final connections and reinstatement. We are planning on full completion by the end of the day on Monday 4 November. We thank you for your patience and understanding during these works.
13 Sep 2019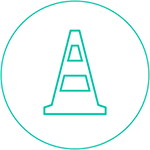 Signs and barriers
There are currently no disruptions
There are currently no disruptions
The water pipes in your area have served your community well for many years, but have recently been showing their age, resulting in a number of bursts.
We had planned to start the water main renewals from 20 May 2019, on Crispin Road and some of the surrounding roads. Unfortunately, it has become necessary to change the sequence of the planned work, which will now start on 12 July 2019 on Kenelm Rise, moving into Greet Road and finishing on Crispin Road. We apologise for any confusion or inconvenience. We will write to you again with a reminder and confirmation of the final dates, nearer the time.
We're committed to ensuring your water supply is always there when you need it.
Meet the team
Samantha Pedley
Amey Customer Liaison Officer
How do I like my coffee?
How are we doing?
If you have any feedback about our works, please click the button below.