In My Area
Planned improvements
The Ridgeway, Redditch - Cladswell Lane
19 Oct 2018
Estimated completion date
Cladswell Lane
This phase of our works will take about two weeks to complete, so that we can work quickly and safely we'll be using barriers during the works.
01 Oct 2018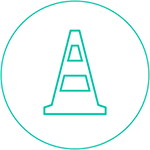 Signs and barriers
We'l be using signs and barriers during our works.
Roads effected:
Cladswell Road
There are currently no disruptions
There are currently no disruptions
We're replacing the old pipes with new ones to help reduce the risk of bursts and flooding.
We're investing £1.3m to upgrade 11km of new water pipes.
The work will take about 18 months to complete, beginning in November 2017 and finishing in the summer of 2019.
Meet the team
Gareth Mead
Community Communications Officer - Severn Trent
How do I like my coffee?
How are we doing?
If you have any feedback about our works, please click the button below.