In My Area
Planned improvements
Cowley Street - Kedleston Road
16 Aug 2019
Estimated completion date
22 Jul 2019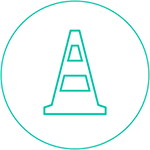 Road Closure
In the school holidays we'll move onto Kedleston Road working from the junction with Quarn Street to the Jonty Farmer pub. We're completing this section in conjunction with Derby City Council who will be carrying out road improvements behind us on Kedleston Road, between 5 Lamps and Broadway, during summer 2019. Initially there will be traffic lights near to the junction with Highfield Road. As the road surfacing work is carried out there will be a rolling road closure. A signed diversion route will be in operation for the duration of the road closure. During the work, bus services will be diverted and bin collection days will continue as scheduled.
There are currently no disruptions
There are currently no disruptions
New pipes for old
We're replacing the ageing water pipes in your area with new ones
Keep it running
We're committed to ensuring your water supply is always there when you need it
Four months in the works
Please be assured that we, along with our contract partners Amey, will do everything we can minimise any disruption and get your brand new pipes installed as quickly as possible.
Meet the team
Helen Purdy
Community Communications Officer
How do I like my coffee?
How are we doing?
If you have any feedback about our works, please click the button below.