In My Area
Planned improvements
Cornwall Place - Brownlow Crescent
14 Feb 2020
Estimated completion date
27 Jan 2020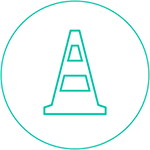 Road Closure
To allow us to carry out this work safely we've agreed with the local authority to slow down the flow of traffic using a road closure and restricted parking around our working area. Access to properties, business and pedestrian walk ways will be maintained and a diversion route will be in place.
Roads effected:
Brownlow Crescent
There are currently no disruptions
There are currently no disruptions
New pipes for old
We're replacing the old water pipes in your area for brand new ones
We keep it running
We're commintted to ensuring your water supply is always there when you need it.
Communities first
We're working with the local community to improve the water supply and reduce the risk of bursts in your area.
How are we doing?
If you have any feedback about our works, please click the button below