In My Area
Planned improvements
Chain Walk, Birmingham - maintenance work to our pipes
31 Mar 2020
Estimated completion date
Maintenance work to our pipes
Our work is progressing well and to programme in Chain Walk. We've now completed all of the connections to the new pipework and should be able to start working on road way and completing the buildings. Thank you for your continued patience during this time.
13 May 2019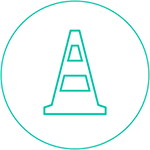 Road closure
So that we can carry out our works quickly and safely we will be closing the road.
Roads effected:
Chain Walk
There are currently no disruptions
There are currently no disruptions
We're going to be carrying out some maintenance work to protect your supply.
  Three months in the works
We expect our works to take around three months to fully complete.
We're commintted to ensuring your water supply is always there when you need it.
How are we doing?
If you have any feedback about our works, please click the button below.