In My Area
Planned improvements
Buxton and (surrounding area) water improvement project - Macclesfield Old Road
30 Aug 2019
Estimated completion date
Macclesfield Old Road
***Work has been delayed until late May due to resource needed on another scheme*** Work wiill start week commencing 29 April 2019 from the junction of the A45/Macclesfield Old Road until they reach the Goslin Bar Farm by August 2019.
29 Apr 2019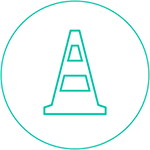 Temporary traffic lights
We will monitor the flow of traffic on Macclesfield Old Road and if we need to, we'll introduce two-way traffic lights.
Roads effected:
Macclesfield Road
There are currently no disruptions
There are currently no disruptions
New pipes for old
We're replacing the ageing water pipes with new ones across North Derbyshire.
Money in the pipes
We're investing £7m to install around 30 miles of new water pipes in your area.
12 months in the works
The team have completed some essential water pipe replacement and they still have more to do in 2019.
Meet the team
Rachel Lowe
Community Communications Officer - Severn Trent
How do I like my coffee?
How are we doing?
If you have any feedback about our works, please click the button below.