In My Area
Planned improvements
Buxton and (surrounding area) water improvement project - Ladycroft - Brown Edge Road
We'l be replacing the water pipes in your area with new ones to ensure supplies are secure for the future.
31 Jan 2018
Estimated completion date
Brown Edge Road (near 61)
Work is progressing reall well in Ladycroft and we're on schedule to finish our works by the end of week commencing 29 January 2018.
Brown Edge Road
The work will start on Brown Edge Road at the junction with Ladycroft from 13 November 2017 until 17 November 2017.
Brown Edge Close, end of Ladycroft
Unfortunately our work has been delayed due to the recent poor weather conditions. We will need to return in the new year to complete the final stages of our work. During the Christmas break we'll tidy up and close our excavations and return week commencing 8 January 2018 to complete the work. We'll have completed the work by the end of January.
08 Jan 2018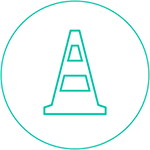 Traffic management
Traffic management and barriers
Roads effected:
Brown Edge Road
Brown Edge Close
Ladycroft
There are currently no disruptions
There are currently no disruptions
We're replacing the ageing water pipes with new ones across North Derbyshire.
We're investing £7m to install around 30 miles of new water pipes in your area.
The team have completed some essential water pipe replacement and they still have more to do in 2019.
How are we doing?
If you have any feedback about our works, please click the button below.