In My Area
Planned improvements
Buxton and (surrounding area) water improvement project - Horse Fair Avenue, Chapel-en-le-Frith
Over the next six week we'll be investing in your area to upgrade the water pipes to help against leaks and bursts.
02 Mar 2018
Estimated completion date
Horse Fair Avenue
Work is progressing well and we expect to have completed all of our work by the end of January. We will need to return on 22 February 2018 to make the final connections on Eccles Road.
Horse Fair Avenue
Unfortunately due to the poor weather and ground conditions our work has been delayed, we will need to return in the new year to complete the work. During the Christmas break we'll tidy up and close our excavations and return week commencing 2 January 2018 to complete the work by the end of January.
02 Jan 2018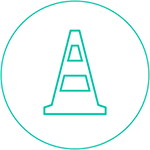 Traffic management
We'lll be using temporary taffic lights on Horse Fair Avenue during our works. Please expect some short delays.
Roads effected:
Horse Fair Road
There are currently no disruptions
There are currently no disruptions
We're replacing the ageing water pipes with new ones across North Derbyshire.
We're investing £7m to install around 30 miles of new water pipes in your area.
The team have completed some essential water pipe replacement and they still have more to do in 2019.
How are we doing?
If you have any feedback about our works, please click the button below.