In My Area
Planned improvements
Buxton and (surrounding area) water improvement project - Chatsworth Road, Buxton
This work has now been completed. The team will be back on site to complete any reinstatement to curbs and grass verges.
15 Jun 2018
Estimated completion date
Boarstones Lane
We've now completed our works in Boarstones Lane.
Victoria Park Road
We've now finished working on Victoria Park Road, we've now moved to Boarstones Land junction of Chatsworth Road.
Chatsworth Road
We've now finished working in Chatsworth Road.
29 Jan 2018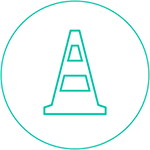 Traffic lights
So that our gang can work quickly and safely we'll be using temporary traffic lights during our works.
Roads effected:
Boarstones Lane, Victoria Park Rd, Victoria Park Road, Chatsworth Road and Granby Road
There are currently no disruptions
There are currently no disruptions
We're replacing the ageing water pipes with new ones across North Derbyshire.
We're investing £7m to install around 30 miles of new water pipes in your area.
The team have completed some essential water pipe replacement and they still have more to do in 2019.
Meet the team
Lisa Orme
Community Communications Officer - Severn Trent
How do I like my coffee?
How are we doing?
If you have any feedback about our works, please click the button below.