In My Area
Planned improvements
Buxton and (surrounding area) water improvement project - Charley Lane
Every so often, we need to replace old water pipes. That's because the risk of bursts increases as the years pass – and we're really keen to avoid this. We'll be replacing the old water pipes in Crossings Road and Charley Lane with new ones
20 Dec 2019
Estimated completion date
The team have nearly laid all the water pipe on Crossing Road and will soon be moving onto Charley Lane
11 Nov 2019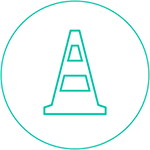 In order to carry out the work quickly and safely, we have agreed with the Highways to close sections of Crossings Road and Charley Road to through traffic in two phases. This means we can get the work completed as quickly and safely as possible. We'll also have signs and barriers around the holes. The team on site are very helpful and are happy to answer any questions you may have.
Roads effected:
Crossings Road
Charley Lane
There are currently no disruptions
There are currently no disruptions
New pipes for old
We're replacing the ageing water pipes with new ones across North Derbyshire.
Money in the pipes
We're investing £7m to install around 30 miles of new water pipes in your area.
12 months in the works
The team have completed some essential water pipe replacement and they still have more to do in 2019.
How are we doing?
If you have any feedback about our works, please click the button below.