In My Area
Planned improvements
Broseley SPS Refurbishment - Waterloo Street
22 Nov 2019
Estimated completion date
Phase one
Phase one - We have now been completed our works in Waterloo Road and we've moved onto phase two will start one phase two.
30 Sep 2019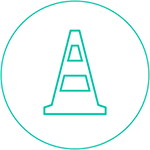 Road Closure
Access to properties at all time - no through traffic
Roads effected:
Waterloo Street
There are currently no disruptions
There are currently no disruptions
Our investment
We're investing over £3 million to refurbish the Sewage Pumping station on the South bank of the river in Ironbridge. We will also be installing a 300mm rising main, to enable flows to be diverted from the North Bank Sewage Pumping Station and bypass the Southern Bank Sewage Pumping Station to enable future maintenance.
11 Months in the works 
Work started in August 2019. There'll be some short-term inconvenience but the advantage of having this work take place will be worth it and secure the network for the future.
Communities first
By upgrading the pumping stations this will reduce the risk of flooding and enable flows to continue to Coalport STW unhindered, negating the need for tankering in the future.
How are we doing?
If you have any feedback about our works, please click the button below.