In My Area
Planned improvements
New 26 km pipeline - Stourport to Frankley - Lickhill Pumping Station
30 Jun 2020
Estimated completion date
Phase 4 - Due to complete early 2020
With the facility now complete we will carry out testing. Teams will also be on site reinstating and landscaping the area.
Phase 3 - December 2018 - Spring 2019
Electrical and mechanical work is still ongoing at Lickhill. The majority of the fitting, pumps and pipework has now been installation. Due to some unforeseen circumstances work on the inlet is running slightly behind schedule
Phase 2 April 2017 to December 2018
We have created our site and an access road, including temporary carparks and working areas. We have also stripped back much of the topsoil and already started to lay the pipe. We have started to build the foundations for the new pumping station and the final part of tunnelling has commenced. During this phase we will build the main structures for the river intake and pumping station. This work starts with digging foundations and making provision for drainage. Some parts of the facility will be brought to site in component parts and put together on site. We have created a dam near the banks of the river. We can now begin to build the intake structure in the river. This will involve driving metal sheets in to the river bed. The footpath near our structure has been diverted. During July and August the final stage of tunnelling will commence as we bore down towards the river, building a new shaft to receive the tunnel boring machine. Some night time working will take place in this period.
Phase 1 - March to April 2017
We've carried out preparation and ground work for the river intake and pumping station. Activities included putting up fencing, making an access road and the stripping away some of the topsoil. We will also set up the site offices and compound. We have also successfully tunnelled down to the location of the pumping station and will be in a position to thread the pipes through over the coming months.
01 Mar 2017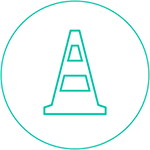 There are currently no disruptions
There are currently no disruptions
What are we doing?
Work started in 2016 to lay a new 26km pipeline from the River Severn near Stourport on Severn to our water treatment works at Frankley. The pipeline begins at Lickhill where we are building a new pumping station and there is also a break pressure tank near Romsley. The new pipeline will significantly improve resilience of the water supply for over 1.2 million customers across Birmingham and surrounding areas. It will also support our wider network of pipes and so benefit customers right across the Severn Trent Region.
Lickhill
Lickhill where we are building a new pumping station and there is also a break pressure tank near Romsley.
Romsley
  Break pressure tank near Romsley.
Where are we working?
Most of the pipeline route is in agricultural land, however in some areas it passes near local communities. We are working closely with residents and communities along the route to minimise any disruption from the work.
How are we doing?
Please get in touch if you have any feedback about our works.
Money in the pipes
This new pipeline is part of the Birmingham Resilience Project where we're investing around £300 million to ensure our customers in Birmingham receive a reliable water supply both now and long into the future.
Pipeline techniques
We'll be using two different techniques to install the new 26km pipeline from Lickhill to Frankley, open cut and tunnelling.
Securing your supply
This project will keep water flowing and create a more sustainable water supply for Birmingham for generations to come. 
Pipeline completion
We estimate the project will be complete by 2020.