In My Area
Planned improvements
Barkestone Lane - Plungar Lane, Barkestone
21 Jun 2019
Estimated completion date
03 Jun 2019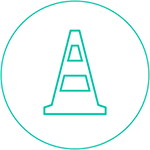 Road Closure
Unfortunately we'll need to use a rolling road closure on Barkestone Lane / Plungar Lane during the work. We'll only close the section we're working on and we'll do our best to maintain access for those need it. In the meantime a diversion will be signposted. We apologise for any inconvenience this causes.
There are currently no disruptions
There are currently no disruptions
We're replacing the ageing water pipes with new ones from Harby through to Bottesford
We're committed to ensuring your water supply is always there when you need it
Please be assured that we, along with our contract partner nmcn, will do everything we can to minimise any disruption and get your brand new pipes installed as quickly as possible
Meet the team
Helen Purdy
Community Communications Officer
How do I like my coffee?
Plentiful