In My Area
Planned improvements
A519, Newport Road, Norbury - A519, Newport Road, Norbury
20 Nov 2019
Estimated completion date
Our work will be taking place from 2 December - 20 December 2019.
02 Dec 2019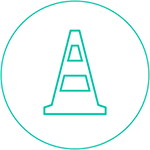 Two-way traffic lights
To allow us to complete this work quickly and safely we will have two–way traffic lights in place, which will be manually controlled between 07:00hrs and 19:00hrs. This is to ensure your safety and the safety of our workforce.
Roads effected:
A519, Newport Road
There are currently no disruptions
There are currently no disruptions
Eighteen days in the works
We plan to start work from 2 December 2019 and take approximately 10 days to complete.
We plan to start the water main renewals from 2 December 2019, on a small section of the A519 Newport Road, Norbury.
We're committed to ensuring your water supply is always there when you need it.
Meet the team
Samantha Pedley
Amey Customer Service Officer
How do I like my coffee?
How are we doing?
If you have any feedback about our works, please click the button below.